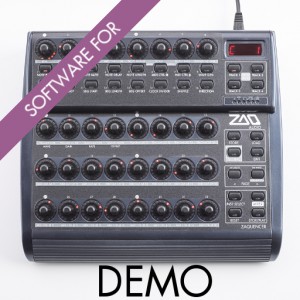 The Zaquencer Firmware DEMO is a free demo of a custom Firmware that will turn your Behringer BCR2000 into a powerful, standalone midi sequencer.
This will include:
- Zaqencer Firmware DEMO ready for upload to your BCR2000 (for installation instructions see here)
- PDF Manual
- Overlay file for printing out and cutting out the control overlay
Before installation please read this.
Please note that the Zaquencer Firmware DEMO is not officially supported by Behringer and that you will void the warranty for your BCR by uploading it.
The Zaquencer Firmware DEMO is only intended for use on the Behringer BCR2000 (does not work on BCF2000 or any other device).
System requirements: For upload, a PC or Mac with a MIDI Interface is required.
The free Zaquencer Firmware DEMO has the following limitations compared to the full version:
- limited to 8 steps (full version has 32 steps)
- no flash functions (no storing/loading of global parameters or patterns)
- because of that: no pattern chain, no copying of tracks+patterns
- limited to approximately 20 minutes of runtime (shows "End" afterwards);
can be restarted but will lose all patterns and global settings due to disabled flash
Download:


Zaquencer Firmware Demo